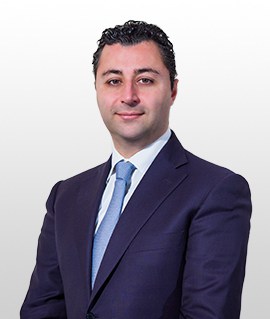 Calogero Boccadutri
Managing Partner
BOOK APPOINTMENT
About Calogero Boccadutri :
Calogero Boccadutri is the Managing Partner of Boccadutri International Law Firm.
He has trial experience in Forex, Personal Injury, Administrative Litigation and insolvency proceedings.
Calogero has quickly established himself as one of the leading forex dispute resolution lawyer across the globe.
His multi-jurisdictional experience combined with contractual related work means he is perfectly placed to assist with these types of issues.
Calogero specialises in complex, difficult, and substantial internet fraud cases and cases under anti-fraud laws for the recovery of monies due to internet scams and Forex fraud.
He also focuses on civil debt collection litigation and he assists and advises both Italian and multinational companies. He has developed significant expertise in defending clients before arbitration panels, including those managed by international chambers, and in the drafting of commercial agreements.
He has conducted many trials and appeals and has settled thousands of claims for accident victims. He has handled many complex litigation claims involving serious injuries, fatalities and disabilities.
From the basic car accident to complicated wrongful death cases, as Italian personal injury lawyer, my clients include individuals, families of people injured or killed in accidents, personal injury victims, motorcycle and truck accident victims, victims of medical malpractice, dog bites, construction accidents, recreational accidents, and wrongful death.
Prior to becoming the Managing Partner of Boccadutri, he worked in the law firm of Prof. lawyer Giovanni Pitruzzella, Professor of Constitutional Law at the University of Palermo, dealing in depth with Administrative law and also with a special focus on public tenders for works, supplies and services, public contracts and public services, in cases involving both litigation, and assistance and consulting.
Education & Court Admissions :
Calogero Boccadutri graduated from the University of Palermo with a First Class degree. He continued his studies at the University of Aberdeen in Scotland.
He is a member of the Italian Bar and member of the International Bar Association.
He speaks Italian, English and Spanish.
Leadership, Membership & Honors :
Italian Bar Association, Member